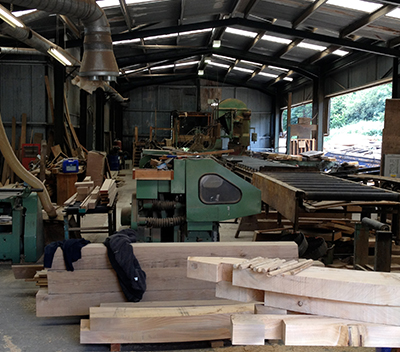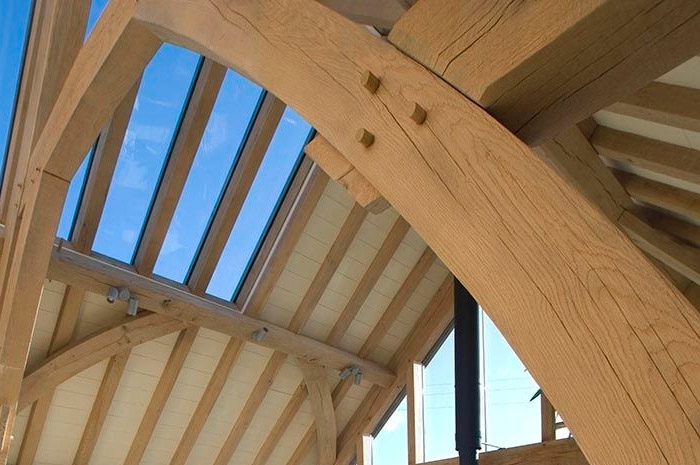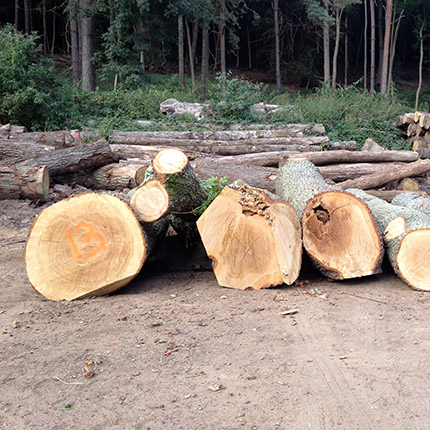 Green Oak
All of our green oak (also known as fresh sawn oak) is sourced from sustainably managed UK or European forests. We mill our oak from the round log to any size so we are able to meet all your requirements. We also stock a large quantity of the most common sizes that can be collected or delivered promptly.
All our green oak is of beaming grade quality, so you can be confident that your structure will stand the test of time. The oak timber is normally supplied straight from milling with a sawn finish. A planning service is available where a smoother surface is required to be show off your oak. So if you just need a piece of 25mm x 25mm batten, or a 600 x 600 beam, then just give us a call.
Air Dried Oak
Air dried oak are essentially green oak beams that have been dried for 2 to 3 years and are also referred to as seasoned or semi-seasoned. They are stacked and stored outside to allow the beams to dry out naturally slowly reducing their moisture content. During this drying period the majority of the shrinkage occurs within the beams. The wood naturally expands and contracts over time depending on the moisture content and the temperature of the surrounding air through the seasons. This also allows the appearance of natural cracks and splits that will vary from piece to piece. Due to the natural air drying process, the final product is a much more stable beam which makes them ideal for mixing with existing timber inside a property such as barn conversions or where a new frame incorporates large areas of glazing or brick in-fill.
Air dried oak will be a silvery grey colour from stock, but can be cleaned and planned to reveal the character and colour of the oak. Air dried is readily available in standard square beam sizes from 100mm x 100mm to 300mm x 300mm. However, larger sizes can be milled or beams can sawn to other dimensions to suit your project.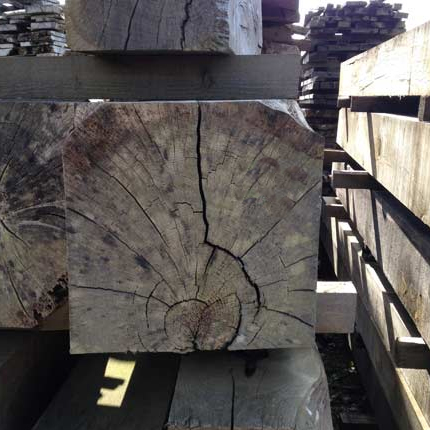 Shaped or Curved Beams
We have a great deal of experience cutting beautiful shaped beams and braces from naturally curved trees. We can also provide crucks, jowl posts, tapered tie beams, tapered rafters and sprockets will all associated accurately cut pegs and joints. We can provide shaped or curved beams in green oak, air dried oak and douglas fir. Feel free to contact us for advice, for example we'd recommend green oak for a shaped tie beam, but air dried oak for a stunning shaped fireplace beam, fireplace mantel or corbel.
Douglas Fir
We supply freshly sawn Douglas Fir beams sourced from local estates and milled here from the round timber. Douglas Fir is used extensively in the USA and Canada for construction of timber framed buildings in the same way as oak is traditionally used here. Beams are available in similar sizes and are an economical alternative to oak.
Hollowed Out / Profiled Beams
Green or air dried oak beams can be hollowed out to cover steel or concrete beams or pipework and cables. For strength and stability, the remaining outer skin of the beam should be a minimum of 50mm. These can be incorporated as part of a frame or as individual items within the project. Alternatively kiln dried character oak boards can be jointed as such to create the impression of solid oak beams.
Curved Braces, Mortices, Pegs, Scarf Joints & Gallows Brackets
We provide a multitude of carefully crafted joints and precision sections of timber to ensure your project uses both strong traditional and also modern carpentry / joinery techniques. We can make bespoke curved braces for timber framed buildings, internal joinery and garden projects and give expert advice on structural timber joints. Many of our customers require precise 'kit style' jointed timber using mortices, pegs, scarf and other trusted joints to ensure on-site construction runs smoothly with minimal adjustments.
Rustic Poles
As close to nature as you can get. Simple rustic poles with or without their bark make an excellent feature in any garden construction project. You could also consider using a rustic pole with its bark removed on an internal timber project to create a really tactile feature. There are too many uses to list, but consider using rustic poles in Larch for car cabin stays, arbour uprights, rustic gate posts, or even washing line poles or hammock supports. Wherever you need some strength but don't need a machined piece of wood, then a rustic pole could be just right.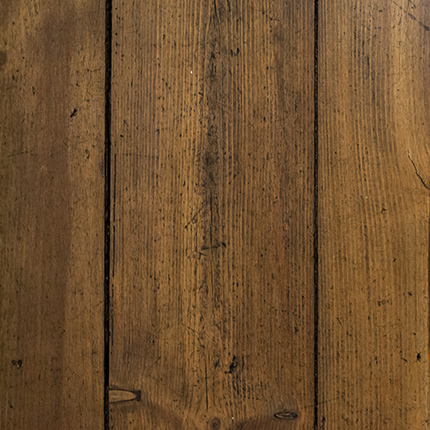 Floorboard
Solid oak floorboards have a lovely character. A scattering of knots and slight imperfections draws the eye and creates a feeling of natural strength and warmth. We can supply oak cut to specified lengths, widths and thicknesses. All floorboard is planned smooth and has tongue and groove joints ready for easy installation. Our oak flooring is NOT a lucky dip containing short lengths that you might find in pre-packaged oak from China. We can supply decent lengths of oak floor board and the oak comes from managed forests in Europe.
Oak Trusses and Roofing
Traditional roof trusses add a great sense of character and space when incorporated into a new frame or even when retrofitted into an existing vaulted roof space. Ridges, purlins and rafters can all be included to add further to the atmosphere of a room.
Trusses can be simple, but elegant, King post trusses through to beautiful open arch braced or even hammer beam trusses. They can be built to your design or give us your room dimensions and we can provide you with ideas.