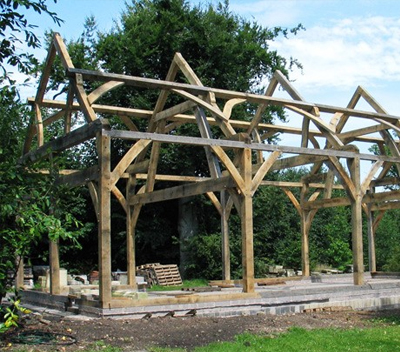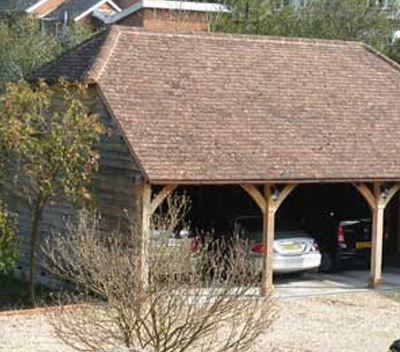 Oak Framed Buildings
Oak framed buildings exude character and strength. We pride ourselves using a combination of modern and ancient carpentry skills to create beautiful buildings across Surrey, Hampshire, Oxfordshire, Buckinghamshire, Berkshire, Sussex and Kent.
Unseasoned green oak provides an excellent building material. Love of wood is not the only reason so many oak buildings still exist in the UK. Oak construction techniques have been refined over centuries and these buildings have become increasingly robust. One key to longevity is nature itself. As the wood dries out and contracts, it makes oak joints even stronger. So whether it's a full size bespoke green oak barn, a garage with a loft, or a modest cabin and log store, please contact us for your project.
Garages & Car Ports
Our green oak garages range from single storey car ports to substantial two storey oak framed buildings which can include a games room, gym or store. Just because a building is intended as a secure weather safe place to park your car, doesn't mean it can't be a stunning piece of natural architecture.
We can provide a bespoke design for your garage or fit in with your preferred contractor to provide all the wood required for the build.
Extensions
An oak framed extension is a simple yet highly effective way of augmenting your living space. It has the ability to change a uniform and mundane house into something quite exceptional, or it can blend seamlessly into an existing beautiful building as if it were part of the original construction. Paired with modern glass technology that allows large areas of glazing and up to date insulated options for wall infills, you can create a space that remains cool in summer and warm in winter. There are so many options to compliment your home, from the choice of structure, roof, walls, floors, doors and windows. We can provide anything from a barn style extension to something contemporary and even the timber elements to fit into a traditional block or brick build.
Orangeries & Sunrooms
Whether you call your room an orangerie, a sunroom or a conservatory, it really doesn't matter. There are differences, some historical, but essentially you need a beautiful oak and glazed extension to your house which captures the warmth and strength of wood but also blurs the boundary between your house and garden.
Typically an orangerie will have one or more roof lanterns set into a flat roof. This avoids the complication of obscuring first floor windows but maintains the thermal properties required for modern construction. Tie beams and exposed oak rafters add to the ambience and including large glass windows and sliding or bi-fold doors will bring the outside inside during warmer weather. There are many design options for both orangeries, sunrooms and oak framed conservatories. The best place to start is to contact us for advice.
Garden Rooms & Garden Offices
A Green oak building offers up a wide variety of opportunities to accommodate extra work or leisure space, either attached to your existing property or a detached location in the garden.
Many people find a natural green oak constructed office as a perfect place to work. It really beats a tube lit air conditioned office.
Other options include a niche space for leisure activities, whether that's a peaceful place to do yoga, a raucous place for the kids to play table tennis, or a garden room to tend your garden, a bespoke green oak building is the perfect solution.
Pergolas, Gazebos & Arbours
A pergola can be a real focal point in a garden or landscape and our solid constructions last for years.
A green oak gazebo is the perfect place to entertain guests, relax on warm summer evening or take shelter with the BBQ during a summer shower.
Gazebos are often modest in construction and act as a focal point for many activities. It can be a great place to keep soft furnishings or even have that special dinner outside. We can provide a range of designs, or work with your ideas to create the perfect arbor or gazebo for your garden.
Green Oak Workshops
At Honeysuckle Bottom Mill, we know about workshops. After all, we spend all day working in one. We can create the ideal solution specific to your needs. Whether you are a great hobbyist requiring a large cabin style workshop in the garden, or you need something more substantial for a commercial operation, we can help.
A green oak framed building lends itself to many applications, but we can input some great ideas specific to workshop design and construction and provide accurately machined and hand crafted oak to make your build run smoothly.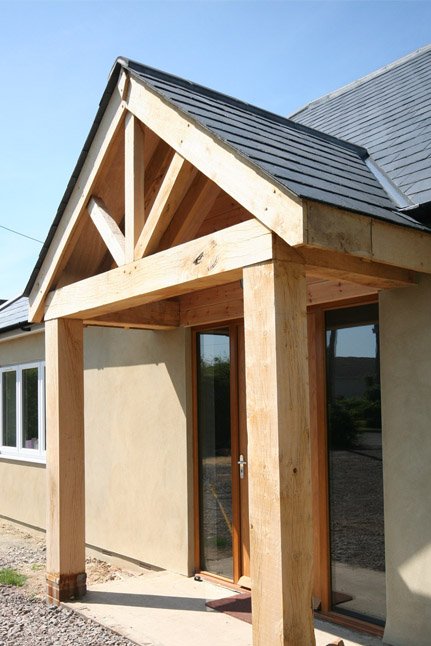 Porches
First impressions last. An entrance can make a statement that sets the scene for the whole building. We can provide beautifull green oak porches. These can be modest and simple (just for your wellies) or more substantial (a significant entrance to your home that could be glazed and clad with an impressive oak front door).